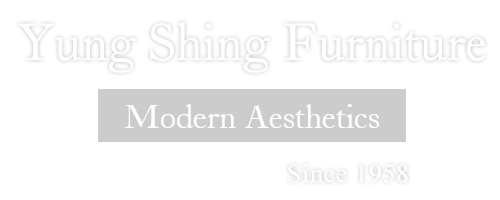 Established in 1958, Yung Shing Furniture Co. Ltd. has been in the business of manufacturing handcrafted solid wood furniture for nearly sixty years. Yung Shing insists on the traditional tenon-and-mortise manufacturing method and creates the unique oriental humanistic features to present local cultures, styles and resonates into brand new creativity and lifestyle.

Yung Shing Furniture Enterprise combines design, manufacturing, marketing and culturally creative business into one. "Yung Shing Hsiang Wood Co." is a factory for customization. "Woody Chic" in Jen-te, Tainan is the marketing brand with branches in Tainan and Kaohsiung. "Furniture Manufacturing Eco-Museum in Tainan" emphasizes on the functions of archiving, displaying, education and promotion, with bountiful hands-on experience blended into the tour. And "Lu Ban Woodwork School", which has been around for 10 years, is one of the pioneers in offering private carpentry education in Taiwan.

In recent years, Yung Shing has devoted itself to improving furniture structure, functions, formative design and creation, as well as the transformation into a culturally creative industry. Step by step we have established the brand of sales - "Woody Chic - Modern Oriental Furniture" and Furniture Manufacturing Eco-Museum in Tainan devoting itself to the education and heritage of furniture artistry with Lu Ban Woodwork School and the archiving and research of furniture culture. Hopefully, the company wishes to fulfill its part of social responsibility. The enterprise of Yung Shing Furniture business joins the efforts of elites from industries, government, academic and research institutions to innovate on a new concept of culture and life that mingles well with modern oriental lifestyle and creates furniture suitable for people of the Orient. It is the company's expectation to promote Chic Wood the brand to the summit of the stage of international furniture industry.

Services offered include:
Research & development of new furniture, customized furniture, professional carpentry learning, space-planning projects, interior design, renovation, etc.